Best of Eastern Canada & USA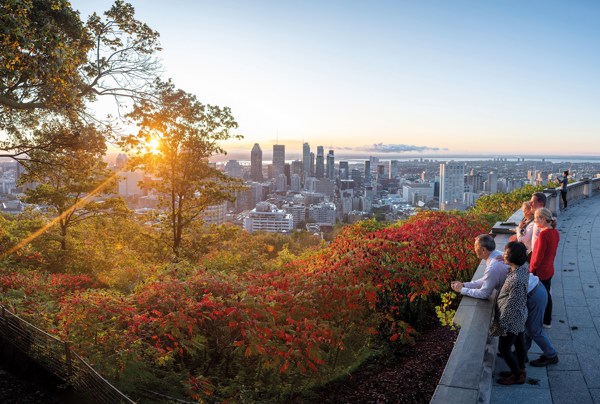 Best Of Eastern Canada & Usa
See the top destinations in two countries on this 16-Day guided tour of Canada and the U.S. Stroll the urban-but-regal Queen's Park in downtown Toronto, then get up-close to the world's most famous waterfall, Niagara Falls. Wander the grand mansions of Montreal and step inside the Notre-Dame Basilica - a masterpiece of Gothic Revival architecture, featuring a gold and azure-hued sanctuary - with a Local Expert. In Maine, dine on decadent, authentic local lobster caught fresh from a nearby harbor. Walk with a guide along part of the Freedom Trail in Boston, a 2.5-mile trail with 16 historically significant sites, including the house where the Boston Tea Party was planned in 1773. In Philadelphia, see the Liberty Bell, rung throughout history to announce some of the country's most historical moments, such as the death of George Washington. In New York City, meet local vendors at a neighborhood public market and taste local specialties.
Choice Highlights
Choose between two carefully selected activities
Boston: Step through the hallowed gates and enter Fenway Park. Home to the nine-time World Series winning Boston Red Sox since 1912, Fenway is the oldest baseball stadium in America. Enjoy an in depth one-hour guided tour of the legendary sports history that has taken place here, with a chance to visit the press box, view memorabilia, and sit in the fabled 'Green Monster' overlooking left field. You will be sure to feel the electric energy of the stadium that represents America's favorite pastime.
Boston: Visit the Isabella Stewart Gardner Museum, a lavish and accurate reconstruction of a 15th century Venetian palace, including an exquisite interior courtyard that boasts an array of blossomed flowers all year round. Every item in the 2,500-piece collection, spanning European, Asian and Islamic art is meticulously placed according to Gardner's personal instructions. Also on display are the empty frames that once held priceless works of art stolen during the infamous 1990 theft, the largest in American History.
Choose between two carefully selected activities
: Newly constructed in Midtown Manhattan, Summit One Vanderbilt has amazing views of the NYC skyline, especially the Chrysler Building. Summit One has four levels of multi-sensory space that represent art and design. With amazing views of the NYC skyline, guests will walkthrough a five-part-story-driven immersive art experience that includes reflective glass, optical illusions and art installations meant to challenge your perspective. Outside, there is also a wrap-around viewing deck that allows for amazing views and photos
New York City: Enjoy the tranquility of one of the United States' largest parks as you take a leisurely bike ride through Central Park.
Make Travel Matter
Ottawa: Learn about the Manitobah Mukluks Storyboot Project, a key initiative that aims to revive the traditional arts by creating partnerships with elders and artisans who fashion mukluks and moccasins in the traditional way. After receiving the prestigious TreadRight Heritage Initiative grant, the project now endeavours to expand its partnerships, teaching opportunities and artisan support network.
Ottawa: Learn about the Manitobah Mukluks Storyboot project which aims to revive the traditional arts by creating partnerships with elders and artisans who fashion mukluks and moccasins in the traditonal way. It is the fourth recipient of a TreadRight Heritage Initiative grant globally, and the first in North America.
New York City: This late afternoon, enjoy a visit to Essex Market, a cornerstone of the Lower East Side for over 100 years. Meet and hear the stories of local vendors while tasting their noteworthy specialties from around the world. Enjoy and learn from a live cooking demonstration while hearing how our visit to this nonprofit run market contributes to countless programs aimed to provide quality, affordable food to the community and foster entrepreneurship as well as economic development.
Washington, D.C.: This striking museum has collected more than 36,000 artifacts that reflect history, politics, sports, arts and entertainment. Explore the richness and diversity of the African American experience, what it means to their lives, and how it helped shape this nation. Learn about the museum's educational programmes and experiential learning, which your visit helps support.
Insight Experiences
Ottawa: Gain new culinary skills and learn more about regional cuisine with a local chef during a cooking demonstration at C'est Bon.
Summary
: Embark on a cruise to the base of Niagara Falls.
: Visit historic Kingston • Notre-Dame Basilica of Montreal • Ile d'Orleans • Quebec City • Acadia National Park • Kennebunkport • Boston's Freedom Trail • Times Square in NYC • Philadelphia's Liberty Bell • Washington D.C.
: City tours of Montreal, Quebec City and New York City with Local Experts; Washington, D.C.
: Welcome Dinner in Toronto • Cooking Demonstration and three-course Highlight Dinner in Ottawa • Dine-Around Evening in Quebec • Highlight Dinner with lobster in Bar Harbor • Celebration Dinner in Washington, D.C.
Authentic Dining
Toronto: At 18:00, you'll meet your Travel Director and fellow travellers for a Welcome Dinner.
Quebec City: Savour the evening in an intimate setting as you enjoy a Highlight Dinner in historic Old Quebec.
Bar Harbor: Enjoy an authentic Main Lobster dinner as you feast on the fresh and local delicacy known for its tender and rich flavour. Raise a glass as you mingle with new friends over this delectable Highlight Dinner.
Washington DC: Join your Travel Director and fellow guests for a Celebration Dinner and toast to new friends and fantastic memories.
Dining Summary: 3 D...
Travel is our passion and every step is designed with your comfort and pleasure in mind, giving you the vacation of your dreams. Enjoy a premium journey packed full of stylish hotels and authentic dining. Savor the views as you travel on spacious customized coaches, so that you arrive refreshed at each destination, and benefit from smaller group sizes. We believe incredible travel is about enjoying every moment, so the only question left for you is where do I want to go?